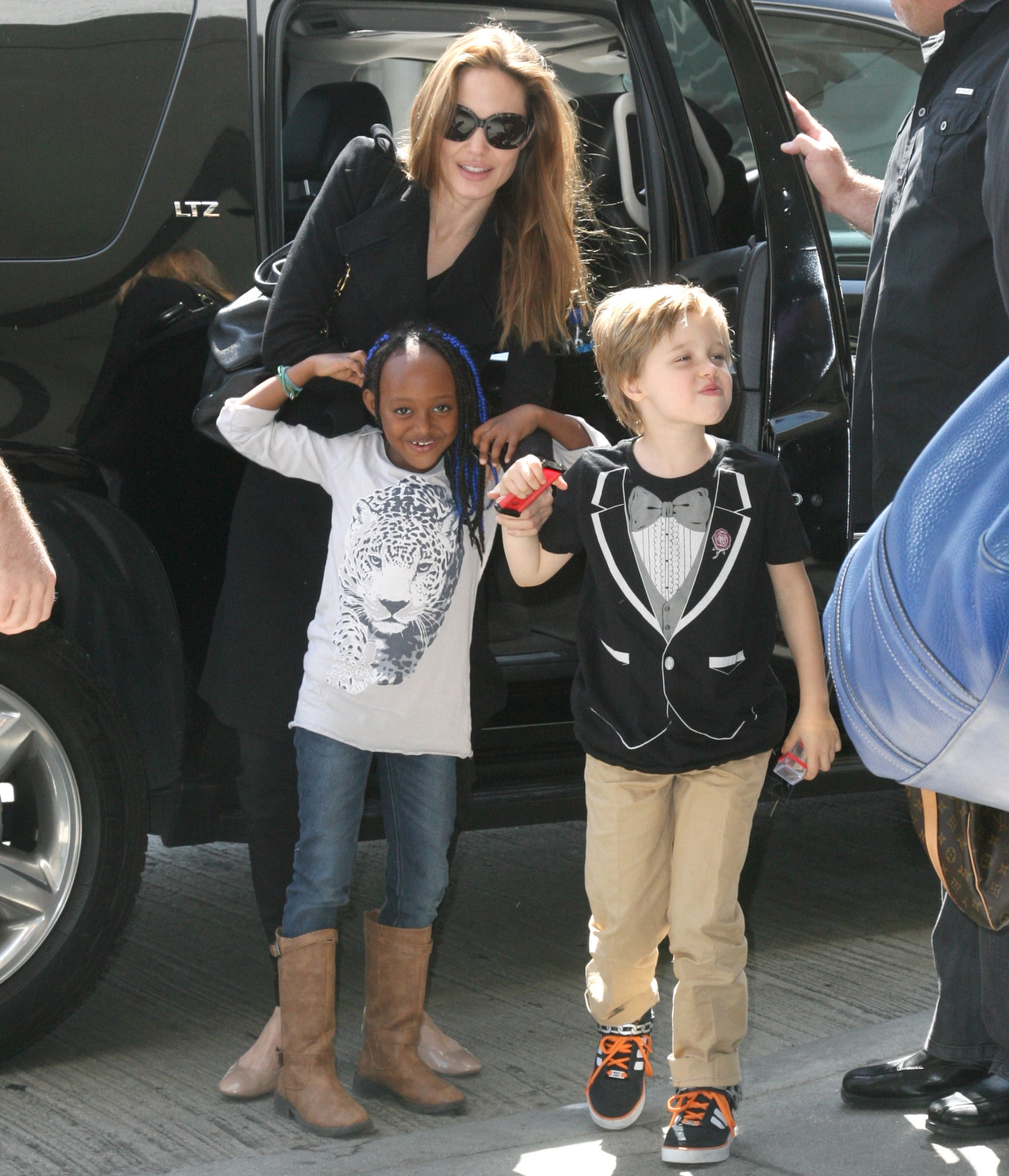 I'm not sure what all of this is about, but it's always nice to hear from The Leg of Doom. I've missed her! Haven't you missed her? Angelina Jolie was everywhere a year ago – Brad was nominated for a bunch of awards and she was "the date" plus she was promoting In the Land of Blood and Honey, plus she didn't mind when the paparazzi got nice shots of her and the kids. And nowadays… there's such an absence! I miss her. Anyway, Angelina might have given a new interview to Total Film Magazine – I don't think TF is in the habit of completely making up interviews, but you never know. Angelina talks about directing, her kids, and how she got with Brad. Maybe I'm clinging to this because there's been such a dearth of quality Jolie-Pitt stories, but I think this interview is pretty good:
Angelina Jolie, she of The Leg, doesn't let her overwhelming fame go to her head. In an interview with Total Film magazine the 37-year-old stunner opened up about her and fiance Brad Pitt's lifestyle.

"The great thing about having a bunch of kids is they just remind you that you're the person who takes them to go poop!" Jolie told interviewer James Mottram.

The Jolie-Pitt clan consists of the two A-listers and their six children: Maddox, Pax, Zahara, Shiloh and twins Knox and Vivienne. Despite being known worldwide, Jolie insists "we have a very normal, very grounded home. And we're friends, and we have a laugh with our kids."

How do they deal with the swarms of paparazzi waiting on their every move? "We just explain to our kids that people like to take pictures of people who make movies. And that's all it is. It's not anything special about mommy and daddy – we just happen to make movies."

On that note, Jolie also talked about "In the Land of Blood and Honey," her film set in the Bosnian War and the first she's ever directed.

"I didn't set out to ever become a director or write a script. I was never intending to make a film," the Academy Award-winning actress told the magazine. "I've been traveling for over 10 years to these conflict and post-conflict zones, and thinking about what happens to people when they live inside these situations, and how their humanity is just stripped apart … So I wanted to have a meditation on what this is and how people who are neighbours can turn against each other."

On fame: "I don't think [actors need a mystique surrounding their private life]. You know the actor. You've seen them at award shows, you've seen them at premieres dressed up. So whether they share or not, their cover is already blown."

On her roles: "I do feel that's very much what a woman is, that combination [of very strong but also very feminine], and I think interesting roles do have that combination – more complex people have that dual side to their personality."

On being labeled sexy: "I'm a woman, and anytime you tell a woman that she looks nice, it's not going to upset her."

On "Mr. & Mrs. Smith" bringing her and Brad together: "Yes, we do talk about that. We look around at our kids. I'm not somebody that thinks about destiny and fate but I don't walk away from it when something unfolds."
[From HuffPo]
"I'm not somebody that thinks about destiny and fate but I don't walk away from it when something unfolds…" Hunh. That's an interesting way to say it… their relationship "unfolded". Discuss! As for the poop quote – that was very un-Angelina, right?
Speaking of unfolding, Star Magazine reports this week that Angelina is pregnant again. Yeah… it's Star. That being said, I wouldn't be surprised if they went for one more (or two more). A source tells Star, "Angelina has been talking about having another child for years now… But Brad kept putting his foot down because of their intense schedules and chaotic lifestyle." So Angelina just went ahead and got knocked up and Brad cried about it and now Angelina is purposefully staying out of the spotlight because she doesn't want people to know she's knocked up. The source says, "She had morning sickness and didn't want to draw attention to herself in public. She's focusing on the other children right now, trying to prepare them for the new baby." Angelina and Brad are convinced that she's expecting a boy, and Shiloh says that they'll need to name him "John" (because that's what Shiloh calls herself).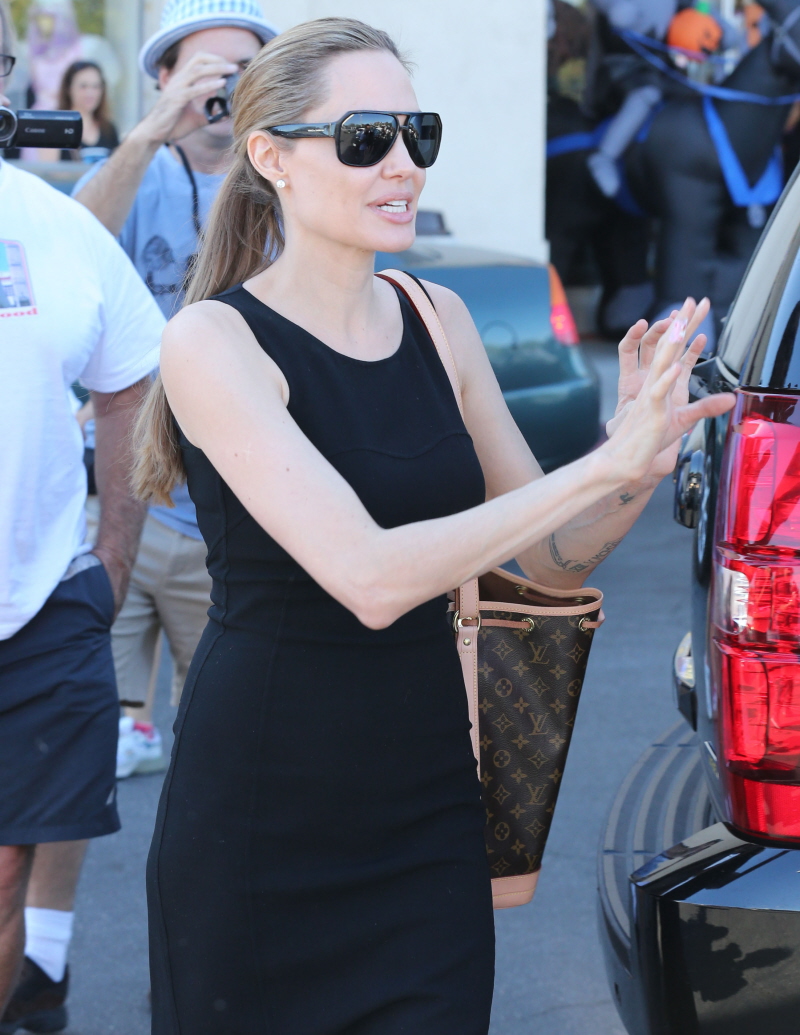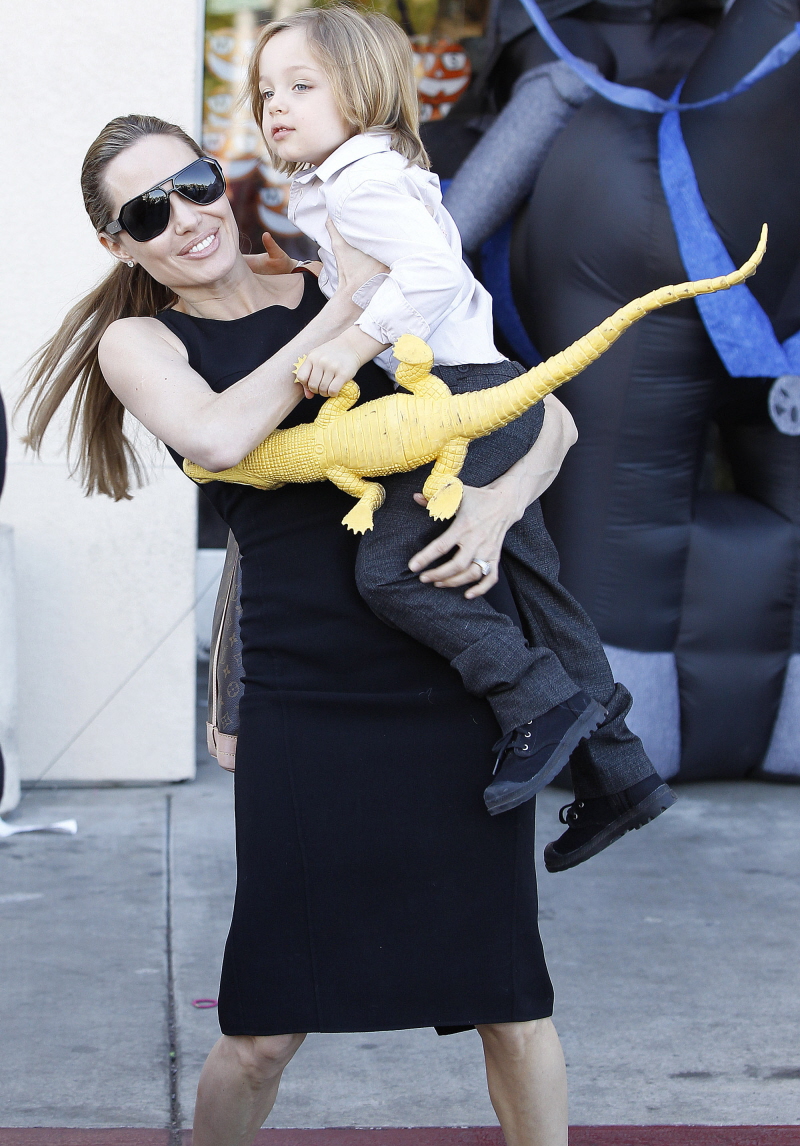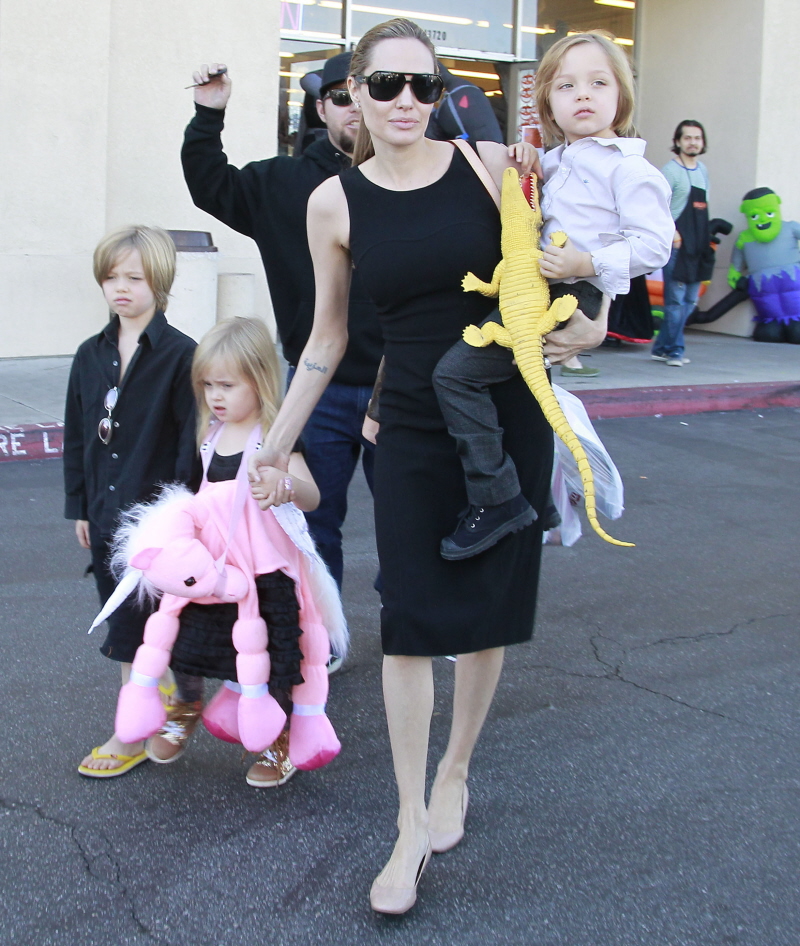 Photos courtesy of Fame/Flynet.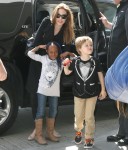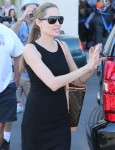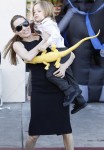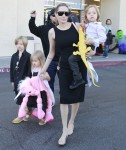 Thanks to Cele Bitchy