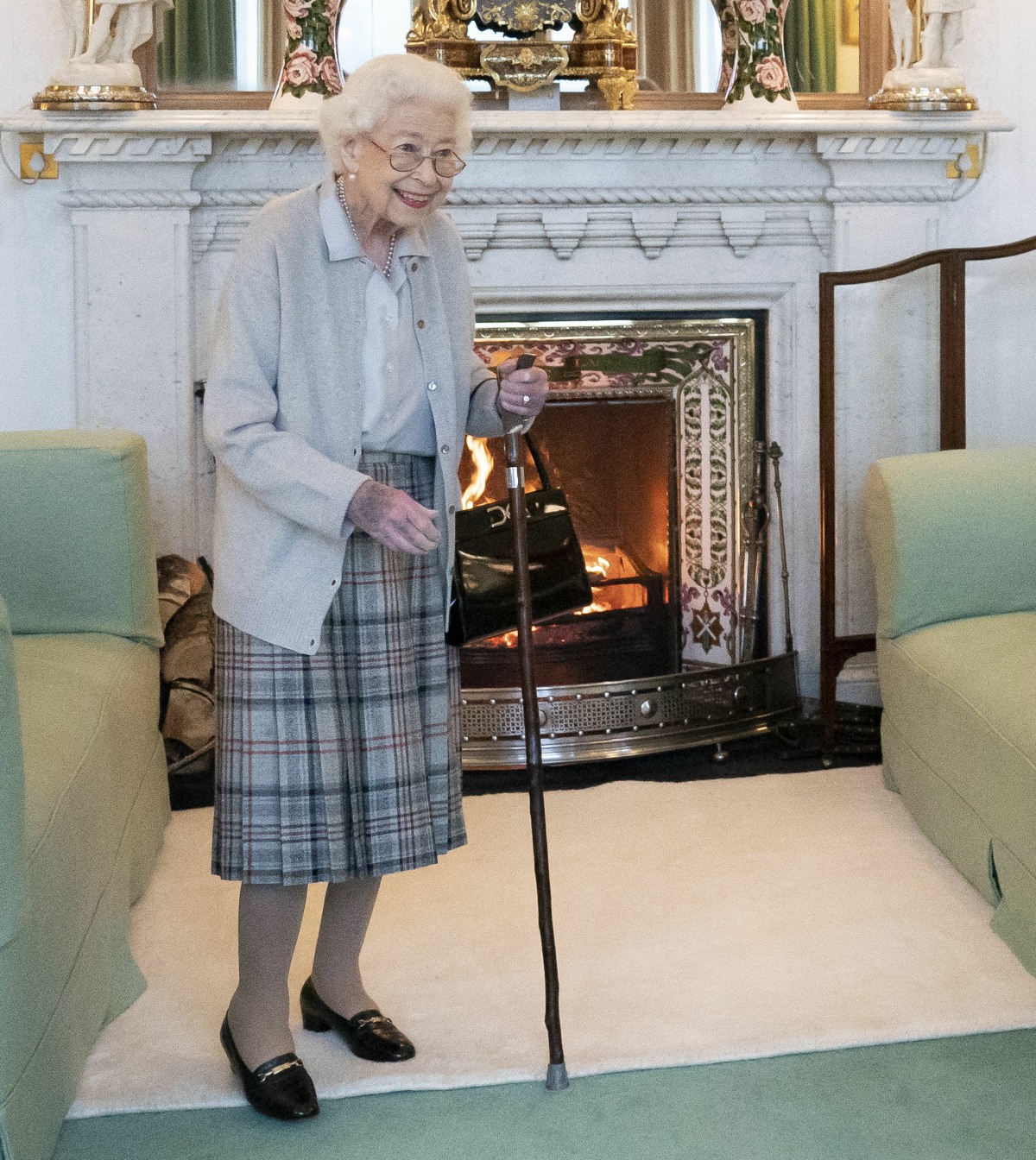 After Queen Elizabeth II passed away at Balmoral, her private estate in Scotland, there was a lot of talk about how much she loved Scotland, how she was half-Scottish (on her mother's side) and how she probably intended to pass away in Scotland all along. King Charles needed the boost, especially since the issue of Scottish independence grows more popular by the year. It's also clear that Charles has basically no plans to "keep" the British Commonwealth nations together – he knows that's a lost cause, so he seems much more focused on keeping the ties of the United Kingdom together, meaning no independence for Scotland and the status quo for Northern Ireland and Wales. Now the Daily Beast has an exhaustive piece about whether QEII's final act was to choose to die in Scotland as some kind of final bid to save the union. Some highlights from this piece:
A friend of QEII claims she always planned to die in Scotland: "She was frail and there was an argument that she should be back in Windsor where it is significantly easier to get hospital treatment," the friend said. "Of course she had access to medics at Balmoral, but nothing like at Windsor. Balmoral is very isolated, but that is where she wanted to be, precisely because she thought the end might be near. She planned to die in Scotland to save the union."

Former Scottish First Minister Alex Salmond: "You cannot choose the time of your passing but you can choose the place. I believe that the Queen effectively chose to die at Balmoral not as some sort of political statement, but for the very human reason that this was the place where she was most comfortable and happy. In turn the great majority of the people of Scotland held Elizabeth, Queen of Scots, in the highest regard, as indeed did I. She would have personally scrutinized every iota of 'Operation Unicorn' which governed her passing in Scotland including the provision that her coffin would be draped with the Scottish Royal Standard, a fact that completely bemused the BBC commentary team who failed to even recognize it."

But she didn't relocate to Scotland, really? The royal author Christopher Andersen, who for many years claimed that the queen intended to retreat to Balmoral before her death, expressed a similar point of view, saying: "I predicted years ago that once Philip died the queen would relocate to Balmoral and end her days there. I think it has less to do with keeping the United Kingdom whole and more to do with her deep love for Balmoral and the memories it holds for her, as well as her abiding love for Scotland. She was at her core a country girl, after all. But do I think she'd be pleased that the union was strengthened by her dying there? Absolutely."
Personally, I think several things can be true at once: QEII loved Scotland and loved Balmoral. If she got to choose, she probably would choose Balmoral for the location of her final days, so I'm glad that happened. I also think Charles was probably quite pleased that his mother passed away in Scotland, because then Scotland got to be included in the larger funeral arrangements, and thus, good press for the Windsors. But like most of King Charles's "support," it's a mile wide and an inch deep. The Scottish papers – which are not closely aligned to Fleet Street's colonialist, anti-independence drivel – are reporting with some regularity that the case for independence grows and it might just happen. If and when Scotland becomes independent, they could rejoin the EU, which is apparently what they want as well.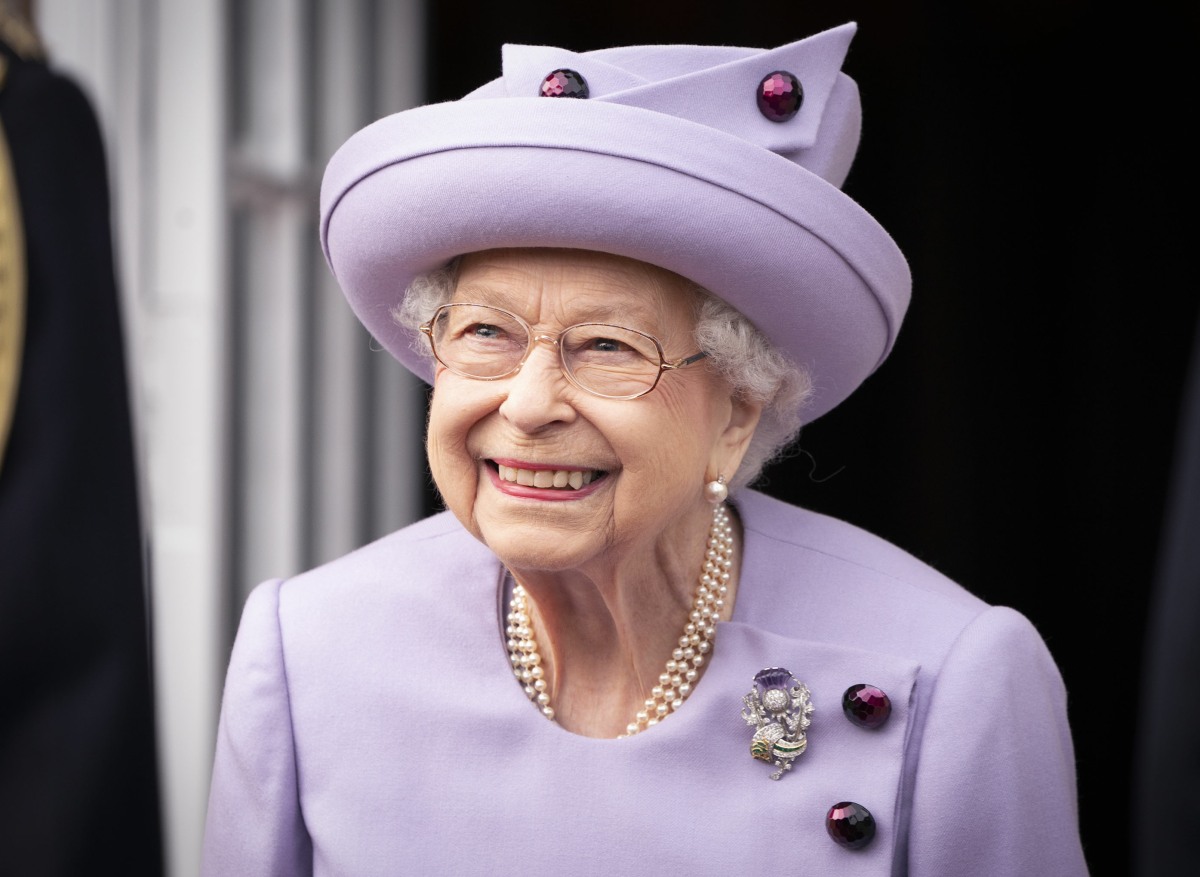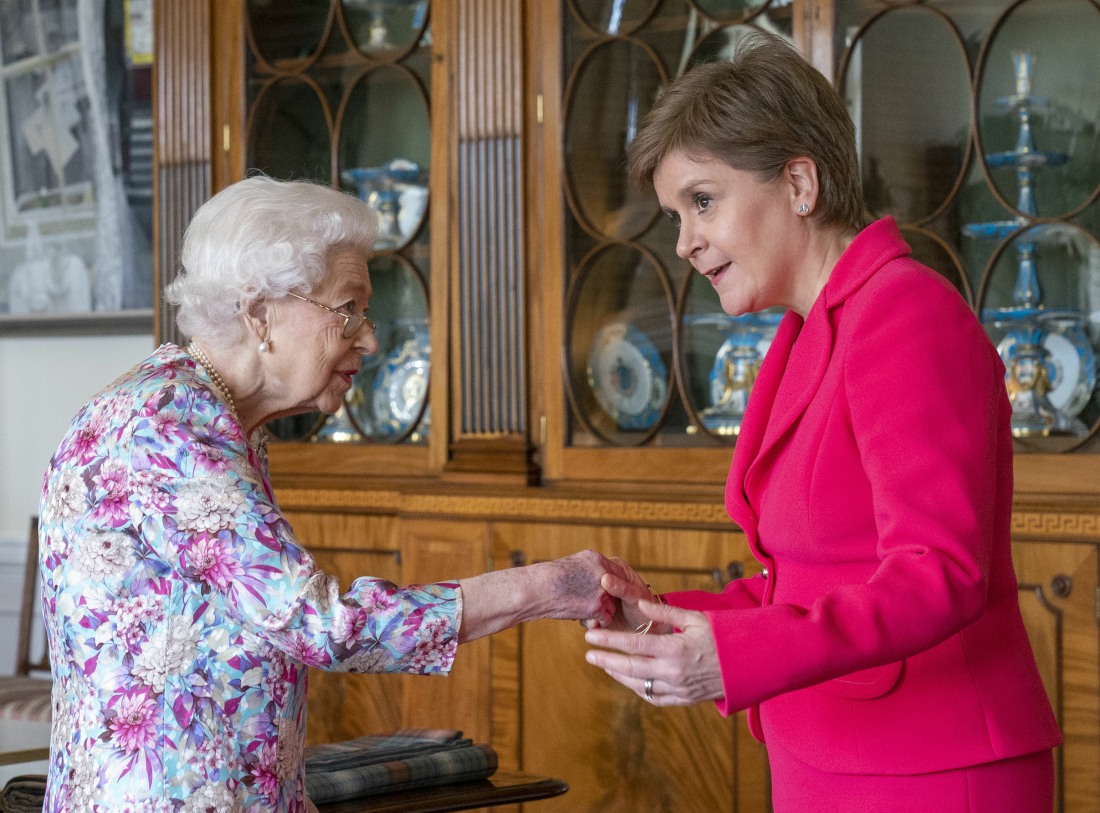 Photos courtesy of Instar and Avalon Red.

North America Rights Only – Edinburgh, UK -20220628-

Queen Elizabeth II attends an armed forces act of loyalty parade in the gardens of the Palace of Holyroodhouse, Edinburgh, as they mark her platinum jubilee in Scotland. The ceremony is part of the Queen's traditional trip to Scotland for Holyrood Week.

-PICTURED: Queen Elizabeth II
-PHOTO by: PA Images/INSTARimages.com

Disclaimer:
This is an editorial, rights-managed image. Please contact INSTAR Images for licensing fee and rights information at [email protected] or call 1 212 414 0207. This image may not be published in any way that is, or might be deemed to be, defamatory, libelous, pornographic, or obscene. Please consult our sales department for any clarification needed prior to publication and use. INSTAR Images reserves the right to pursue unauthorized users of this material. If you are in violation of our intellectual property rights or copyright you may be liable for damages, loss of income, any profits you derive from the unauthorized use of this material and, where appropriate, the cost of collection and/or any statutory damages awarded
For images containing underage children: Be advised that some Countries may have restricted privacy laws against publishing images of underage children. Inform yourself! Underage children may need to be removed or have their face pixelated before publishing
North America Rights Only – Edinburgh, UK -20220628-

Queen Elizabeth II attends an armed forces act of loyalty parade in the gardens of the Palace of Holyroodhouse, Edinburgh, as they mark her platinum jubilee in Scotland. The ceremony is part of the Queen's traditional trip to Scotland for Holyrood Week.

-PICTURED: Queen Elizabeth II
-PHOTO by: PA Images/INSTARimages.com

Disclaimer:
This is an editorial, rights-managed image. Please contact INSTAR Images for licensing fee and rights information at [email protected] or call 1 212 414 0207. This image may not be published in any way that is, or might be deemed to be, defamatory, libelous, pornographic, or obscene. Please consult our sales department for any clarification needed prior to publication and use. INSTAR Images reserves the right to pursue unauthorized users of this material. If you are in violation of our intellectual property rights or copyright you may be liable for damages, loss of income, any profits you derive from the unauthorized use of this material and, where appropriate, the cost of collection and/or any statutory damages awarded
For images containing underage children: Be advised that some Countries may have restricted privacy laws against publishing images of underage children. Inform yourself! Underage children may need to be removed or have their face pixelated before publishing
Queen Elizabeth II receives First Minister of Scotland Nicola Sturgeon during an audience at the Palace of Holyroodhouse in Edinburgh, as part of her traditional trip to Scotland for Holyrood Week.,Image: 703769242, License: Rights-managed, Restrictions: , Model Release: no, Credit line: Jane Barlow / Avalon
The Duke of Buccleuch and Queen Elizabeth II attending the Queen's Body Guard for Scotland (also known as the Royal Company of Archers) Reddendo Parade in the gardens of the Palace of Holyroodhouse, Edinburgh. Picture date: Thursday June 30, 2022.,Image: 704275771, License: Rights-managed, Restrictions: NO UK USE FOR 48 HOURS- Fee Payable Upon reproduction – For queries contact Avalon [email protected] London 44 20 7421 6000 Los Angeles 1 310 822 0419 Berlin 49 30 76 212 251 Madrid 34 91 533 42 89, Model Release: no, Credit line: Avalon.red / Avalon
Queen Elizabeth II attending the Queen's Body Guard for Scotland (also known as the Royal Company of Archers) Reddendo Parade in the gardens of the Palace of Holyroodhouse, Edinburgh. Picture date: Thursday June 30, 2022.,Image: 704275824, License: Rights-managed, Restrictions: NO UK USE FOR 48 HOURS- Fee Payable Upon reproduction – For queries contact Avalon [email protected] London 44 20 7421 6000 Los Angeles 1 310 822 0419 Berlin 49 30 76 212 251 Madrid 34 91 533 42 89, Model Release: no, Credit line: Avalon.red / Avalon
Queen Elizabeth II welcomes Liz Truss during an audience at Balmoral, Scotland, where she invited the newly elected leader of the Conservative party to become Prime Minister and form a new government.,Image: 719993309, License: Rights-managed, Restrictions: , Model Release: no, Credit line: Jane Barlow / Avalon
Queen Elizabeth II waits in the Drawing Room before receiving Liz Truss for an audience at Balmoral, Scotland, where she invited the newly elected leader of the Conservative party to become Prime Minister and form a new government.,Image: 719993378, License: Rights-managed, Restrictions: , Model Release: no, Credit line: Jane Barlow / Avalon
Queen Elizabeth II waits in the Drawing Room before receiving Liz Truss for an audience at Balmoral, Scotland, where she invited the newly elected leader of the Conservative party to become Prime Minister and form a new government.,Image: 719993385, License: Rights-managed, Restrictions: , Model Release: no, Credit line: Jane Barlow / Avalon
North America Rights Only – Edinburgh, UK -20220628-

Queen Elizabeth II attends an armed forces act of loyalty parade in the gardens of the Palace of Holyroodhouse, Edinburgh, as they mark her platinum jubilee in Scotland. The ceremony is part of the Queen's traditional trip to Scotland for Holyrood Week.

-PICTURED: Queen Elizabeth II
-PHOTO by: PA Images/INSTARimages.com

Disclaimer:
This is an editorial, rights-managed image. Please contact INSTAR Images for licensing fee and rights information at [email protected] or call 1 212 414 0207. This image may not be published in any way that is, or might be deemed to be, defamatory, libelous, pornographic, or obscene. Please consult our sales department for any clarification needed prior to publication and use. INSTAR Images reserves the right to pursue unauthorized users of this material. If you are in violation of our intellectual property rights or copyright you may be liable for damages, loss of income, any profits you derive from the unauthorized use of this material and, where appropriate, the cost of collection and/or any statutory damages awarded
For images containing underage children: Be advised that some Countries may have restricted privacy laws against publishing images of underage children. Inform yourself! Underage children may need to be removed or have their face pixelated before publishing