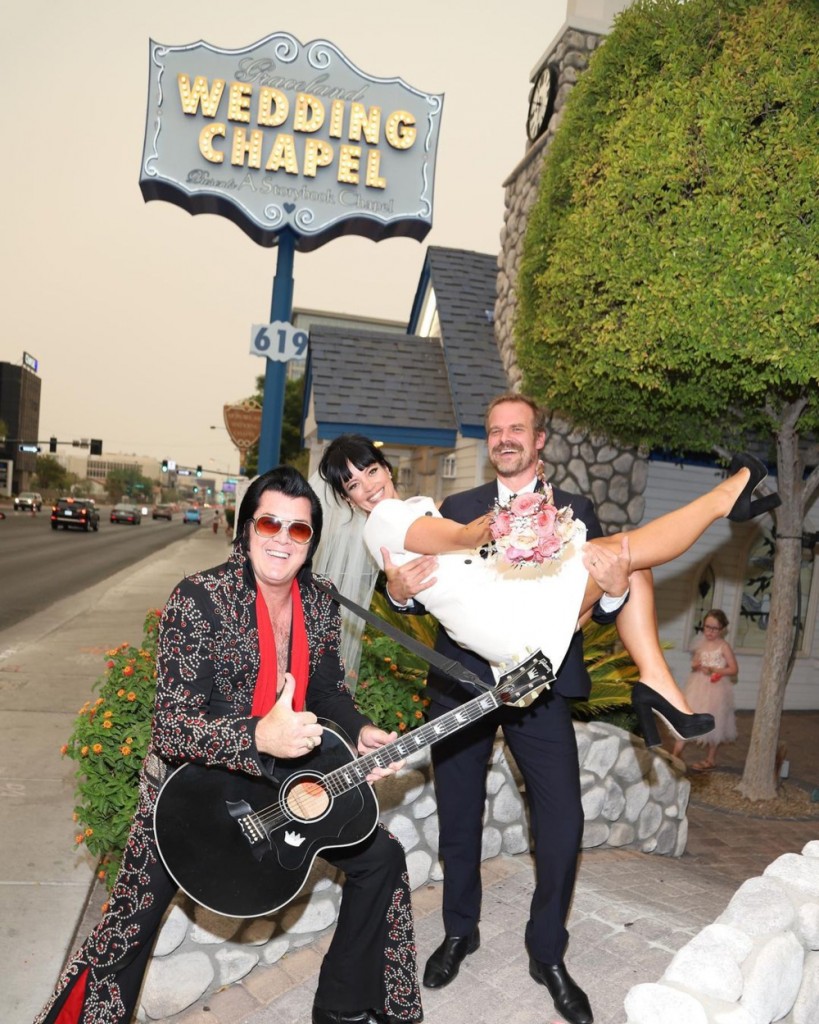 David Harbour appeared on Jimmy Kimmel Live to promote Stranger Things and the Black Widow movie. I guess Jimmy is back to desk and couch interviews now, things really are returning to how they once were. The first thing Jimmy did was congratulate David on getting married. David and Lily Allen surprised most of us by getting married in Las Vegas last September during the pandemic. They posted some pictures to their social media from their wedding, but beyond that, neither spoke much about any of it. However, on Kimmel, David opened up a bit. He said that he and Lily had actually gotten engaged before lockdown, but it was Lily's daughters, Ethel and Marnie, who inspired him to make things official. David said he married Lily so her daughters would know what to call him.
David Harbour made it official with Lily Allen due, in part, to some accidental advice from the British singer's two young children.

The Stranger Things star, 46, appeared on Jimmy Kimmel Live! Tuesday, where he spoke about how Allen's daughters Marnie Rose, 8, and Ethel Mary, 9, whom she shares with ex Sam Cooper, played a role in the couple's decision to wed in a low-key Las Vegas ceremony last September amid the coronavirus pandemic.

"We got engaged right before the pandemic. Then the pandemic hit and nothing was happening," Harbour said of his plans with his partner, 36.

"We were riding around beginning of pandemic — she has two kids, these beautiful daughters, 8 and 9 — and we were riding bikes out in the country trying to figure out what we were gonna do for the next year or however long it was going to take. And the little one was riding along and she was going like, 'David, dad, David, dad.' Because the D got her confused," he recalled. "And the older one got very upset with that, which I understand. She was like, 'He's not our dad! He's not our dad!' "

Harbour continued: "And then younger one was like, 'Well what is he? He's kind of our dad.' She's like, 'No he's not, he's our stepdad.' And she goes, 'What is he?' And she goes, 'He's just some guy in our lives!' "

According to the Black Widow actor, that conversation confirmed it was time for him to take the next step.

"I was like, 'I need to marry this woman,' " Harbour joked. "Because the emotional fallout … "
If you watch the clip on Kimmel, it's really funny. David is a great storyteller. But I kind of think there's an element of truth here. David and Lily had a unique rollout to their relationship. It's become obvious they aren't doing it for anyone but themselves. Remember when they first took up, they were hanging all over each other in the streets? I really thought that was going to be their brand. But their honeymoon phase matured and we heard very little from them. They didn't disappear, just kept to themselves mostly. David clearly became involved with Lily's daughters, that was apparent on their social media, but he was respectful of their father, Sam Cooper. So I think when he heard Marnie call him "some guy in our lives," it was funny, but he also wanted to prove to them he was in it for the long haul. If that message was more important than the bells and whistles of a big ceremony, why wait? Maybe David saw the chance to prove his dedication to Lily and the girls right then and there. And the wedding looks like a lot of fun. I'm still in love with Lily's wedding look. I think everyone go the wedding they wanted.
David said both Marnie and Ethel still jokingly call him, "some guy in our lives." I love it. It's like a pre-teens way of keeping the new parent in line.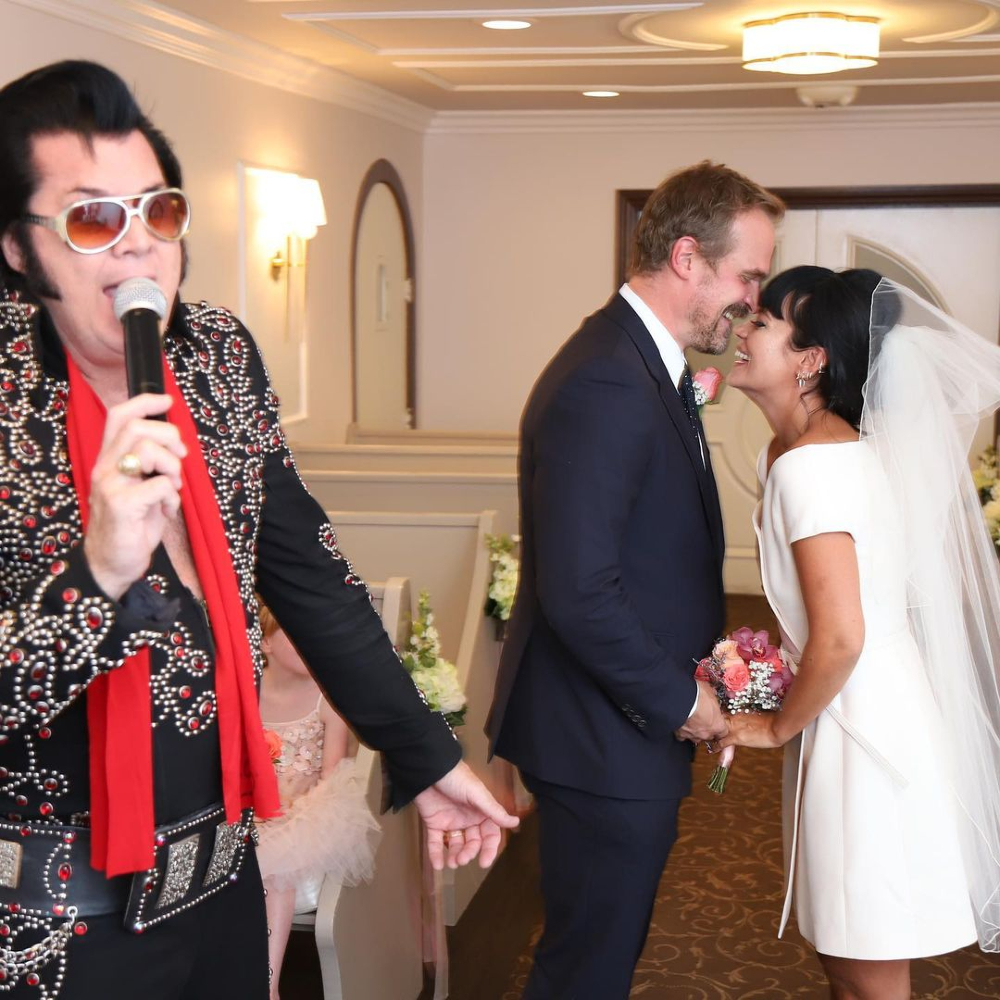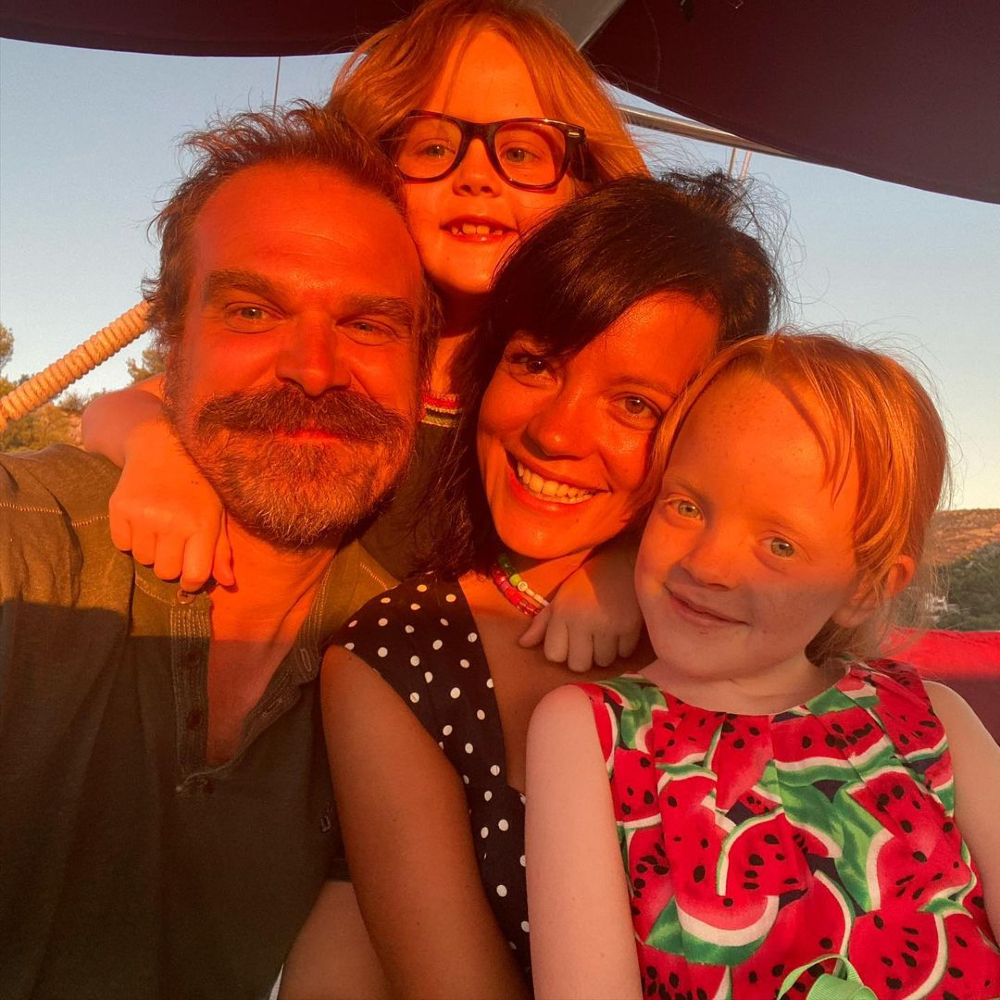 Photo credit: Instagram and YouTube